Rangam Joins CEO Commission to Pledge Greater Support for Disability & Inclusion
09/21/2022
SOMERSET, N.J., September 21, 2022—Holistic talent acquisition firm Rangam becomes a member of the CEO Commission for Disability Employment, a D.C.-based public policy office with a mission to advance disability-inclusive employment by inspiring and engaging business leaders to drive change through policy, practice, and culture.

The membership reflects Rangam's unwavering commitment to improving recruitment processes, systems, and attitudes to facilitate greater inclusion of talent with autism, those who are neurodivergent, or with disabilities.

"CEO Commission and Rangam have shared values and common goals," said Nish Parikh, Rangam CEO and Co-founder, and Hetal Parikh, President and Co-founder, in a joint statement. "People with disabilities bring a wide variety of unique skills and perspectives to help organizations achieve and sustain growth through innovation and entrepreneurial thinking.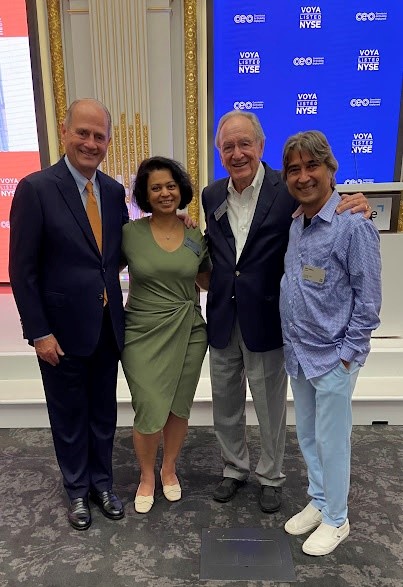 CEO Commission is working tirelessly to not only raise disability awareness in the workplace, but also provide valuable resources and networking opportunities to its members. We would like to thank Melissa Hulick, Director of CEO Commission, for inviting us to the closing bell ringing ceremony at the New York Stock Exchange (NYSE) last month. The bell sounded like a clarion call to work more closely and to make the world a better place for people with disabilities. Rangam hopes to take this partnership forward and collaborate on our inclusive agenda to effect positive change in disability employment," they added.

The Parikhs also thanked John Cronin, Co-founder of John's Crazy Socks, and his father Mark, for introducing Rangam to CEO Commission. Notably, Rangam partnered with John's Crazy Socks and Doug Flutie Jr. Foundation for Autism in March this year to support the annual 'Autism Can Do Scholarship' program that rewards creativity in designing.

*** *** ***


About Rangam
Rangam is a minority-, woman-, and disability-owned workforce solutions company with a mission to "Accelerate Meaningful Employment for Everyone," including autistic and neurodivergent talent, people with disabilities, service veterans, women in STEM, members of the LGBTQ+ community, and other diverse groups. The organization delivers innovative workforce solutions by designing an integrated and inclusive recruiting methodology. Rangam specializes in attracting and retaining talent globally for IT, Engineering, Scientific, Clinical, Healthcare, Administrative, Finance, and Business Professionals categories. To learn more, visit: https://www.rangam.com/


About the CEO Commission for Disability Employment
The CEO Commission for Disability Employment was founded by Voya Financial, the Society for Human Resource Management (SHRM), and the National Down Syndrome Society (NDSS), to be a source of research and information, actionable steps and advocacy opportunities for member companies to recruit and onboard individuals with disabilities into their organizations. To learn more, visit: https://ceocommission.org/
Media contact:
Jerry Grider
jerry@rangam.com
908-416-0834